Become A Registered Maine Guide
Becoming A Registered Maine Guide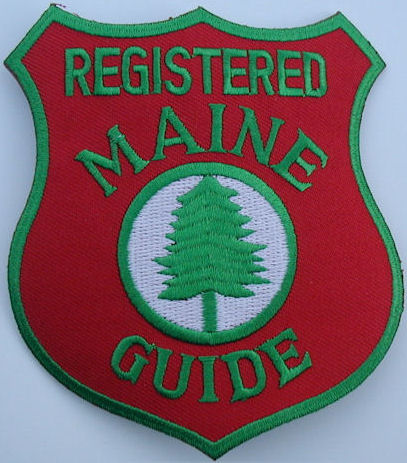 Alice's Awesome Adventures, LLC offers personalized customized Registered Maine Guide preparation training using your skills and knowledge as your base. This is not a generalized program, but one tailored to your particular needs and background focused on the guiding specialty in which you are seeking to take the tests. Training can be done in person or in a combination of online work and either contact training or partially through video conferencing based on your schedule.
The lure of the grand State of Maine was too much for civilized travelers used to the cities of the world in the 1800's. Maine was full of moose, deer, bear, hunting and sporting camps, lobsters crawling on the shore, wide open spaces and woods. The fishing from the lakes was reported to be incredible and to get here, all you had to do was get on the train or a steamer and come. Some of our early visitors went on their own and got lost. Others hadn't a clue how to catch fish or set up camp. Many of our visitors wanted a personalized trip that would go to the best spots for hunting or fishing and travel down streams and rivers in wood & canvas canoes. The guiding industry was born and used native americans initially as guides. The state of Maine decided there ought to be a licensing process and 1897, the first Registered Maine Guide was a woman - Fly Rod Crosby. Today, there are nearly 5000 Registered and Master Maine Guides. Not all guides are from Maine.
As a Registered or Master Maine Guide you work under the supervision and licensing of the Maine Department of Inland Fisheries and Wildlife. They define a guide as: "any person who receives any form of remuneration for his services in accompanying or assisting any person in the fields, forests or on the waters or ice within the jurisdiction of the State while hunting, fishing, trapping, boating, snowmobiling or camping at a primitive camping area."
I want to become a Registered Maine Guide but should I use home study, apprentice, guide school, or combination preparation?
Home study is the least expensive but the hardest if you can't stay focused on your unique training plan. It can be the most rewarding because you are the one who knows your strengths and weaknesses best. You will read, watch videos, take online training, and practice skills alone or with friends or a study partner. Take the How to Train to Become a Registered Maine Guide online course through Maine e-Learning at www.mainee-learning.com to discover your base knowledge, your specialty choice, and discover a wealth of training resources.
Apprenticeship is currently not allowed in the State of Maine for any specialty other than Whitewater Rafting. Whitewater Rafting guide candidates actually take a course with the sponsoring/future employer rafting company and then "student teach" rafting runs to fellow candidates as part of their training process. You can ask a guide to help you with a topic of study but you can not job shadow a guide and receive any renumeration of any kind.
Guide Schools offer courses that have specific attendance dates and are generalized training for a group of students focusing on the specialties of hunting, fishing and recreation. They are designed to give you the information they believe you need to become a basic guide in a short time such as one long weekend or over two weekends. They are a combination of some practical skills and mostly classroom sessions. Not all schools use the same format or scheduling, so ask about their: scheduling, payment and refund policies; Guide Test pass rates; how the information is taught - will it match with your learning needs?; and ask to chat with past students. Most programs average $500 for classroom attendance. Alice's Awesome Adventures is offering a group Registered Maine Guide training program over ten weeks starting January 23, 2024 and you may choose one or two specialties to focus your training. If you want unique group training for a private group, she can create a special program for you. Alice's Awesome Adventures courses are heavily weighted in practical skills and training that will not only prepare you for your examinations but to become a working guide. Alice's Awesome Adventures offers private customized training that can start at anytime.
Combination preparation allows you to take different preparation courses from sources such as guide schools, community adult education classes, specialty groups, seminars, special events, and one-to-one discussions with a current guide or a Maine Warden. Then you will work on your own or with a study partner to prepare. Perhaps your future employer will assist you in preparing. Alice's Awesome Adventures, LLC offers customized specialty training workshops as well as complete guide training for the license specialties of Hunting, Fishing, Recreation, Sea Kayaking, and Tide-water Fishing. Alice's Awesome Adventures offers online and in-person workshops. The online workshops are at Maine e-Learning. Generalized workshops include topics such as: Preparing for your Sea Kayak Examinations, Basic Search and Rescue Training and more.
Alice's Awesome Adventures, LLC offers workshops throughout the year. You can request a private workshop if you have a specific skill or knowledge that you want to learn. Master Maine Guide Alice will assist you.
Alice's Awesome Adventures, LLC is partnered with many adult education and community programs. The once a year group course is sponsored by: Merrymeeting Adult Education, Five Town CSD Adult Education, Maranacook Adult Education , Boothbay Adult and Community Education, Midcoast Adult and Community Education, Central Lincoln County Adult Education, Maranacook Adult Education, Gardiner Area Adult Education, and Winthrop-Monmouth Adult Education offer a remote learning online course using Zoom so you don't have to commute to class, with an interactive online textbook starting January 23, 2024. There are only 15 spots available. Please contact one of the above adult education programs to register. You may have to type in "Registered Maine Guide" in their search engine to quickly find the course offering. The cost is only $500 per person, payable through the adult education program. There will be three optional all-day outdoor skills workshop days offered that are a separate cost. Those workshops will be in the greater Brunswick area and the dates may or may not be during the run of the course. The course will have you prepared to take your oral and written examinations in the late spring.
No matter how you prepare for your tests you will be nervous when you take them, but proud when you pass. Can you successfully complete the Alice's Awesome Adventures GIT (Guide in Training) Game? Regardless of how you prepared for your exams, book a 3 hour session to test yourself with this game. You will be amazed how challenging it is, and how it pulls together all your knowledge while allowing you to discover the areas that you need to review before testing.
Click and Contact Alice now! or call 207-729-6333 and let Master Maine Guide Alice, a former Guides Board Examiner and Alice's Awesome Adventures create your customized Registered Maine Guide training that works with your schedule and commitments. Most customized courses are hybrid courses of online, classroom, practical, and mock examinations.
Expect to spend a minimum of fifteen hours 1:1 with Alice through the use of video conferencing and possibly in-person, plus at least 30 hours on your online and homework assignments plus attending and actively participate in at least two all day workshops when they are safe to offer. Price is based on your current knowledge and skills and what you ought to know to be a working guide in your choice of license specialty(ies). During 2023-2024, if you wish to train privately for one specialty, the cost starts at $850.00. Yes that is more than a group class but you are getting active and interactive training that significantly upgrades your ability to become a Registered Maine Guide. Master Maine Guide Alice trains you to think, act, and be a guide ready to work after you pass your examinations, not just be a test taker. Former and current students have hailed from Tennesee, New York, Georgia, Virginia, Massachusetts, Illinois, New Hampshire, Connecticut, New York, North Carolina, Rhode Island, Vermont, and Maine. To see current personalized hybrid online/in-person live session course offerings use this link.
Alice's Awesome Adventures, LLC offers many 3 - 8 hour workshops for those that want to be outdoors as well as future Registered Maine Guides on specialized topics such as: RMG Test Preparation, Trip Leadership, Kayak Navigation, Map and Compass, Outdoor Cooking, Trip Planning, Winter or Summer Trip Safety, Canoeing, Sea Kayaking, SUP, Snowshoeing and Outdoor Safety Skills. Call 207 729 6333 to book a custom workshop just for you or for a group of friends.
Alice's Awesome Adventures, LLC offers private training for those that need refreshers on specific outdoor topics. Ask and see if Alice can match your schedule and get you the training that you need.
Testimonials
"That went great. Written were 84 and 76, and the orals got congratulations for being one of the best they recall!. Nice work skipper! 👍 Sure feels great. You really stepped up this past week to help pull it together for me. have to get everything else wrapped up before we head to England tomorrow evening! But it'll be some celebration tonight, Thank you so much. And congrats to you too😆"

"I went for my freshwater fishing certification last week! After the three tests I did with your prep and support I felt confident that my background for all the general guiding areas (like regs, weather, medical, etc) was really solid. Since the fishing is probably my strongest area I wanted to prove to myself that I was indeed now enough of a guide to sail through the test on my own feet. I guess it worked cuz I evidently got one of the best scores on the written that they've ever seen (93%)! The oral was great fun as usual and one of the examiners has even been calling to see if we can get together! So I'd say you've done an outstanding job getting this new Registered Maine Guide truly on his own feet at a rare standard. The foundation for that outcome was significantly built on your standards, support and friendship- without doubt you are an awesome trainer of guides."

"Thank you so much, Alice. I also wanted to thank you for all the help you gave me in the process of getting my license for sea kayaking. I couldn't have done it without you."

"I thought I knew that the best teacher I ever had was in elementary school. You are even better! You helped me learn in the ways that I needed and you knew what to do when I needed. I passed my exams for hunting and fishing."

"Dear Alice, Thank you so much for all that you have done for your GIT'S. The time and effort you have given to us is truly appreciated. I feel so fortunate to have learned from the BEST! You're awesome, and by awesome, I mean TOTALLY AWESOME!"

"I'm looking forward to getting this application into the mail. Appreciate the help as always and for the quick response which makes my stress go away. Take care."

"I don't want to skip any of the hands on training days and I'm willing to pay the full price at a later date to make sure I can attend all the classes. I appreciate you keeping in correspondence with me and its obvious you offer way more in training and commitment than the Cabelas or LL Bean programs. If you can let me know what your availability would be for private classes over the next 6 months or so maybe we can set something up. Thanks again."

"The GIT Game was amazing! It challenged me to make decisions on the fly based on changes in weather conditions, illness, safety, and catastrophic events all while having to identify wildlife, flora, and equipment. I had to give speeches and evaluate others actions during different guiding situations. I learned so much."

"I thought that I was ready for my examinations. I played the GIT Game and found the holes. It was so much easier to take my orals after playing this game. You should sell this."

"The GIT Game made me make decisions that I didn't like and wouldn't have done on my trip. But by being forced to make adjustments, I learned why I had taken this course. I learned to think like a guide! I could make difficult decisions quickly and I also learned what I really needed to study to take my exams. Thank you for creating it."

"I thoroughly enjoyed our two days on the water. ... I liked the way in which you posed questions and we were engaged in critical thinking on the water. It seems as though it would be easier to answer and think on dry-land, but when in the boat with the wind and the sun and perhaps being a little cold and wet and a little tired it made it more real-world like. We are going to have to make tough decisions sometimes from the cockpit and I am glad that I had the opportunity."

"As I mentioned, the week as a whole exceeded my expectations by a wide margin."

"Alice's comfort in the water really came through her, as she very readily wrangled and directed tandem boats on the water, a task famous for ending up with either colliding or widely dispersed vessels clogging the water way. I actually have years of experience canoeing, and was taught by a Maine Guide, but the intervening decade and a half have grown thick with the weeds of disuse and bad habits. My J-stroke turned into a rudder stroke (very likely due to it being more expedient for my weak wrists), my communication to the bow person became abysmal, and my ability to compensate and adapt to another paddler needs some very serious practice and attention to be brought back up to snuff. I also discovered that my knee injuries in Baxter have left me, for the time being anyway, unable to kneel in a boat. Thanks to this class, all this was brought to my attention in a safe place where I could discover my deficiencies and learn their corrections without consequence. I learned knots and rigging tricks, I learned about the laws for PFD's and different vessels, and I learned about a few people's jobs. Watching how others communicated during the rescue made me think hard about how I do and will communicate to victims in emergencies. Jeremy's calm tone and reassuring "are you ready" and "may I"s would calm a panicking person more than yelling and barked orders, and by making a response part of the dialogue, made sure the rescued understood what they had to do or what was about to happen, something that didn't always happen, including in my own run. Through the whole day was the ethic that being impeccably safe and thorough does not mean not doing or doing less, something my job could stand to learn. The whole day I thought 'This, this is what I want to give people. Experiences like this.'"

"Most people never realize how important it is to have food safety when cooking outdoors and preparing food at home for clients. Alice showed me how easy it is to do it wrong and then I did the cooking. Oh my, the consequences of not attending to safety details means sick clients, changing a trip or stopping it, and possibly a sick me -the guide. Take her outdoor cooking workshops."

"I couldn't have passed my Recreation Guide's tests without Alice. She took what I knew, worked with my schedule and put in extra time to accomodate my learning style. I would not have succeeded in a regular guide school program."

"Alice has gone out of the way to train me to be a guide. I have extensive solo adventuring background but not working with groups. So, adjusted the lessons to help me change my approach to what I would be doing as a guide. Her online lessons allow me to work independently and then she gives me feedback on what I have done."

"I can't believe what I have learned from the online Sea Kayaking course. It was work but enjoyable. I'm from Illinois and I needed to begin to understand Maine."

"I wanted to open my own sea kayak fishing business and I knew that I couldn't prepare for the examinations from a group course. With my family life, I needed a custom course. Without Alice's help, her attention to details in my training, including learning about running a guiding business, I wouldn't have passed my two license examinations. I'm a Registered Maine Guide for sea kayaking and tide-water fishing. Yea!"

"From a person who had already taken his Registered Maine Guide Recreation Oral Exams and failed Map & Compass 3 times. He took a 1:1 workshop on just that. "I passed! Your practice session and homework prepared me perfectly for the exam. Thank you so much for taking the time to teach me everything. I really feel like I have a good understanding of map and compass now."